THE SHORE EXCURSION TO HOI AN PLUS DANANG CITY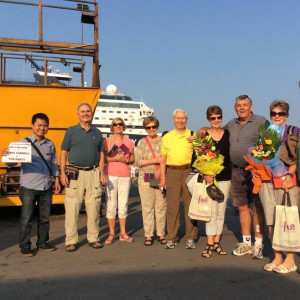 Description:
Hoi An, the World Heritage Site which is located along the pretty river. The town has remained unchanged for centuries. Hoi An used to be the big port for the Cham kingdom to import and export gold, wood,pepper,..At that time, every year Hoi An had some trade fairs that attracted merchants from Holland,Portugal, Japan and China to come with their goods. After the river became shallow, Da Nang started to replace Hoi An as the trade port in 18th cenetry. When the Japanese decided to return home in 17th century, the Chinese came and changed most architecture of the houses over here. Nowadays, Hoi An is a tourist place with many hotels and restaurants and silk shops. Danang is a modern dynamic city in Vietnam where there are some a lot of resort, hotel. Some great sightseeing places for tourist such as R&R beach, Dragon bridge, Cham Museum, Han Market, Mable moutain.
Leave the port of Chan May for Hoi An. Stop at Hoi An hotel for some minutes comfort before you take a walk around the ancient town.
Start your walking tour by visiting Hoi An Museum where the exhibits reflect a busy time for trade among the local and the foreign people from Holland, France,, Portugal, Japan and China.
Continue to visit a traditional merchant house which is made of wood and lime stone. Most houses are more than 300 years old. The house is quite long with a lot of wood carvings and ceramics. Visit the Phuoc KienTemple built in honor of Thien Hau, the Goddess of the Sea, and the Mother Goddess. Most Chinese Vietnamese here worship her as a Goddess to help them with good health and good business.
Continue to walk along narrow streets of the old town and end your walk with a visit to the Japanese covered bridge. The Japanese built this bridge and worshipped the Weather god. Two dogs and two monkeys are built at both ends of the bridge.
Visit Hoi An open market which offers a chance to see local products from meat to fish, all kinds of fruits and vegetables.
Continue to walk to the river to see local people exchange trade alongside the river, and boats on the river. The river offers a nice setting for your photos.
On the way back you will have time to visit Mable Stone Sculture villages, My Khe beach nickname is R&R beach where the US marines took holiday and stayed next to. Cham pa museum is the last place to visist.  Then, Go back to the sea port. Finish the tour.
Please note: This tour involves a considerable amount of walking, mainly on flat ground. Hoi An can be crowded, so please stay with your guide. If you opt to walk independently, please alert your guide to arrange a convenient meeting point.
Transportation info : Air-conditioned coach/bus made in Japan and Korea
No restrooms on board
Venue Name:
| | |
| --- | --- |
| 1. Hoi An hotel | : Flat, walking for about 50 meters |
| 2. Hoi An museum | : Flat |
| 3. Han market | : Flat, walking for about 200 meters |
| 4. Tan Ky old house | Easy simple steps |
| 5. Phuoc Kien temple | : Easy steps up, walking for abour 30 meters |
| 6. Japanese covered bridge | : Easy simple steps |
| 7. Hoi An open market | : Flat, walking for about 300 meters |
Restroom Information: Restroom are available
2 restroooms at each place : YES
Wheel chairs are not accesible. : NO
One stop for restrooms is made : YES
Price of Tour: Please contact us to know the price