HUE PRIVATE TOUR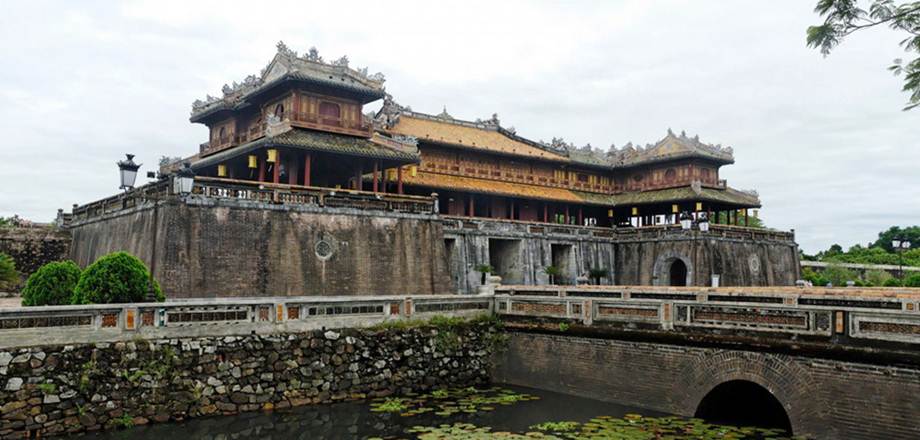 OVERVIEW
Exploring Hue is one of Vietnam's greatest pleasures and this day tour reveals the fascinating history and spectacular beauty of this town. Visit the ancient citadel which reflects the pomp and ceremony of the dynastic rulers, take a cyclo ride through Hue's backstreets as well as discovering the eclectic and mesmerizing tombs of Khai Dinh and Minh Mang.
PROGRAM DETAILS
08:30 depart from your hotel in Hue. Start at the Imperial Citadel where the Nguyen Dynasty ruled between 1802 and 1945. The ancient citadel reflects the pomp and ceremony of the dynastic rulers as well as the scars of many years of turmoil, both ancient and modern (the Royal Citadel was badly damaged in the latter stages of the war) but retains a sense of grace and majesty even today.
Continue to visit Thien Mu (Celestial Lady) Pagoda overlooking the Perfume River; constructed in 1601 the 21-meter tall tower is the centerpiece of the pagoda and represents seven reincarnations of Buddha. In the grounds of the pagoda is the Austin car made famous when in 1963, a resident monk drove the vehicle to what was then Saigon to protest against the southern regime, the photo of his self immobilization was captured and was one of the most well known images of the war.
For lunch to try some renowned Hue cuisine.
In the afternoon see the tomb of the former emperor Minh Mang which is located in a tranquil setting of gardens and ponds.
Journey on to Khai Dinh's Tomb which is traditional Vietnamese in design with a European touch making it unique from the other tombs in Hue.
Before heading back to your hotel take time to stroll around Dong Ba Market with your guide. The market is another of the must see sites in Hue, the stalls are teeming with color and a great place to catch a glimpse of everyday life. (L)
PRICING: Please contact us at: INFO@HUEPRIVATEEXCURSIONS.COM
* Tour included:
– Private SUV
– Private tour guide
– Private lunch
– All entrance tickets at sightseeing
– private Boat trip
– Cold water for day tour
* Tour excluded:
– Your expenses ( shopping, tips, others drinks)